Hi Everyone,
The books this time showcase different kinds of love.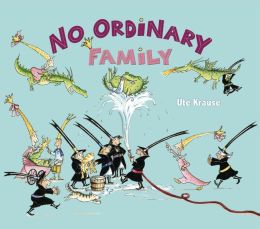 No Ordinary Family– Ute Krause 
No Ordinary Family is one of those books that surprised me. The narrative begins as a story about a family separated by divorce. But this is not all a sad story. When the Bandit kids' parents split up, the kids, left with their mother, decide to go visit their father. And when the kids arrive, they find that a princess and her children have come to live with him! Well, the Bandit kids don't like these prissy princesses. Not at all! So they pull some pranks and accidentally go a bit too far. But, by the end, the Princess and Bandit children are friends, and it's time for the Bandits to go back to mom's house. And you'll never guess what they find there! Definitely an ending I didn't expect, but in a funny way.
A Sick Day for Amos McGee– Philip C. Stead
A Sick Day for Amos McGee portrays the different ways one can care for a friend. Amos loves his job taking care of his animal friends at the zoo. He plays chess with elephant, races with tortoise, hangs out with penguin, has a handkerchief for rhinoceros, and reads bedtime stories to owl. But one day, Amos doesn't come to work. The animals worry, so they travel to Amos' house. He's in bed with the sniffles! All the animals take turns staying with Amos, and, soon he feels better enough that he reads them all a bedtime story. This 2011 Caldecott Medal winner is one of my favorite recommends for children who love animals. It is a sweet and lovely story, with an aspect that is reminiscent of Peggy Rathmann's Goodnight Gorilla: there is a red balloon that readers can follow throughout the illustrations. 
 A Year with Marmalade– Alison Reyonds
A Year with Marmalade chronicles the time that Ella and Marmalade, the cat, spend waiting for their friend Maddy to return home with her family. Normally, this wouldn't be a problem, but Ella and Marmalade aren't friends. Ella spends the time trying to do all the activities that Maddy did with her, but Marmalade avoids them. Marmalade won't play in the leaves, jump in puddles, or  But, one frosty morning, Ella wakes up to Marmalade laying on her feet. Thus begins a fast friendship. They play in the snow and read books by the fire. Soon, Maddy returns, and the three enjoy a great reunion. This book is one of my favorite new releases of 2013. The illustrations are charming, and the text tells a lovely story of a growing friendship. I cannot wait for the next Marmalade book, A New Friend for Marmalade!
Sam is the book buyer for the iconic World's Only Curious George Store. After earning her master's degree in Children's Literature from Simmons College, she decided to travel the world, searching for Hufflelumps, Diagon Alley, Cair Paravel, silver slippers, and Neverland, before settling in Curious George's house to read books all day.