I love snow, and winter is my favorite season. So to celebrate the wonderful frozen water that falls from the sky, I've gathered some great snowy books.
1. The Snowy Day– Ezra Jack Keats
When the little boy wakes up, the world is covered in snow. This story follows his adventures while playing outside and trying to avoid the big kids' snowball fights.
2. The Long Winter– Laura Ingalls Wilder
I read this series over and over as a child, especially this one.
The Ingalls' town is hit with a blizzard, and, even though it is fun in the beginning, the snow, which reaches the rooftops, has cut off the train. People are running out of food quickly. Will someone figure out a way to save the town?
3. The Lion, the Witch and the Wardrobe– C. S. Lewis
Narnia is stuck in winter, having not seen summer for many many years. But when Lucy, Susan, Peter and Edmund discover the wintery land in the wardrobe, the snow begins to melt.
Follow the Pevensies' adventures in Narnia!
4. Curious George in the Snow– Margaret & H. A. Rey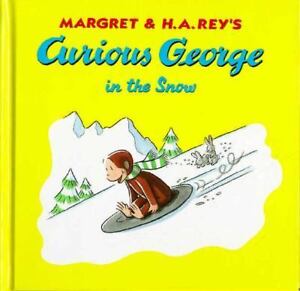 Join Curious George for a hot beverage before he rockets down the snowy mountain! Curious George reaches the bottom of the mountain safely, but not without causing a ruckus along the way.
What are some of your favorite snowy books?
-Sam
Sam is the book buyer for the iconic World's Only Curious George Store. After earning her master's degree in Children's Literature from Simmons College, she decided to travel the world, searching for Hufflelumps, Diagon Alley, Cair Paravel, silver slippers, and Neverland, before settling in Curious George's house to read books all day.